Post October 21, 2022
Artist Lilla Tabasso at Vino Vero
"Rumore / Noise", 2022
11 September – 10 December 2022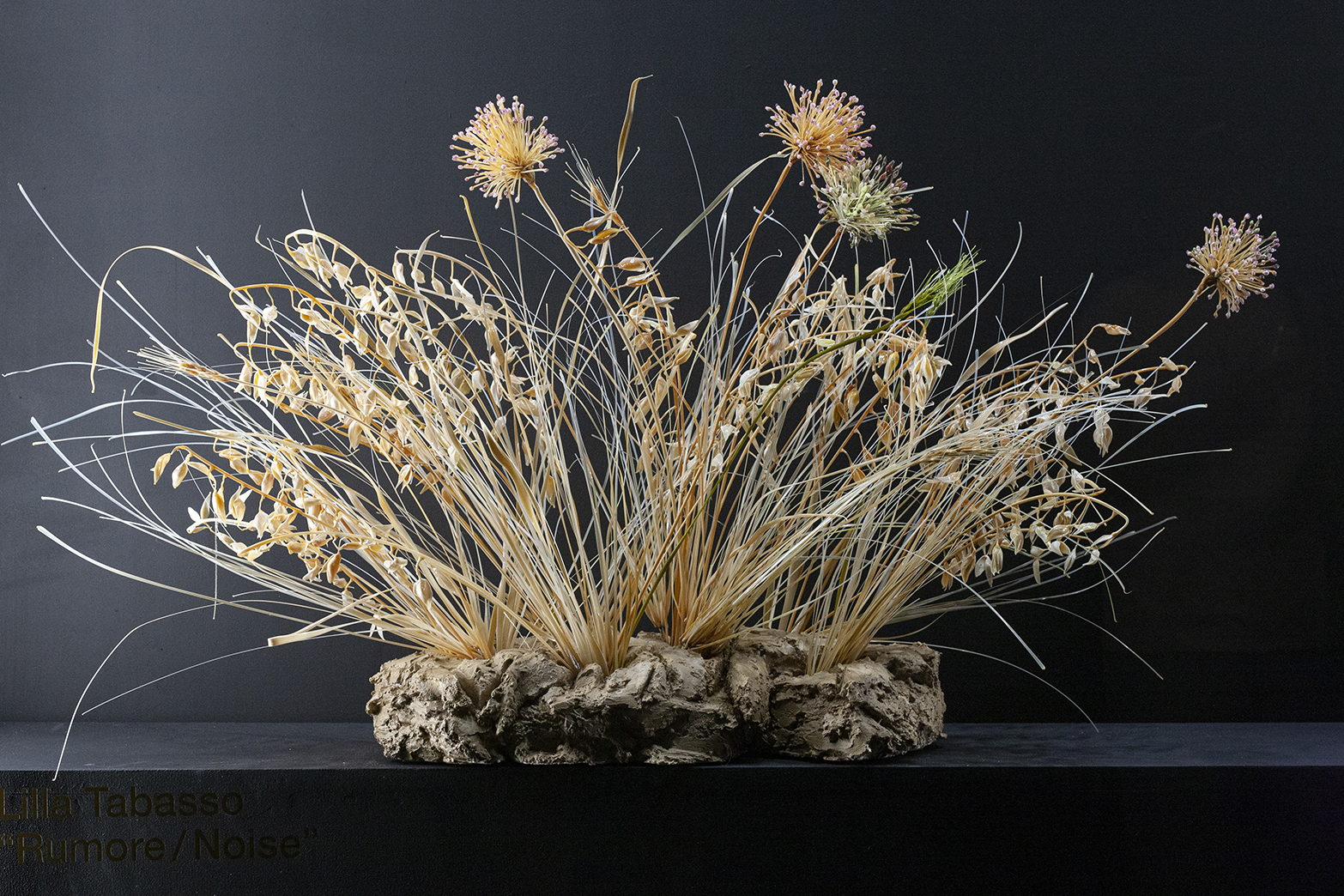 For its fifth showcase, Vino Vero presents a site-specific work by Milanese artist Lilla Tabasso in collaboration with the venetian Galleria Caterina Tognon.
Lilla Tabasso is an artist who works with lamplight glass. In her floral creations, she immortalises bouquets and tufts of grass in the precarious phases of life; her work tends towards the concept of hyperrealism, infused with the intention of expressing an emotion linked to a very precise moment of suspension in which the beauty of full blossoming blends harmoniously with the equal beauty conferred by passing time. In her studio in Milan, she creates delicate glass sculptures of wilting flowers and rough tufts of grass that have just reached their peak, capturing the way they bow and tumble elegantly as they decay.
Although Lilla Tabasso is trained as a biologist, she does not draw preliminary sketches and shies away from sculpting faithful representations, preferring instead to reinterpret a lily, a peony or a hydrangea in the course of their life process. More than the form, it is the choice of colour, together with a warm and natural tone, that is the priority, restoring to the flowers their transparent melancholy, the permanent condition of every creation. Her recent works revolve around the idea of ataraxia, or equanimity, which manifests itself in the contrasts between enduring forms of life and their intrinsic ephemeral essence.
Growing up in a family of antique dealers and surrounded by classical styles that inevitably 'contaminated' her, Lilla Tabasso decided to devote herself to glassmaking and learnt the ancient and noble art of lampworking as a self-taught artist: she melts Murano glass rods in the heat of a flame, mixes them to obtain the perfect colour and then gives them life. What nature puts before her eyes, she reinterprets according to the mood and emotions of the moment, as if it were the flower itself suggesting a state of mind. In her works there is always life, even if suffering, while the contrast inherent in human nature takes shape in the unusual juxtapositions of the compositions: transparent and deliberately neutral vases that enhance the richness of the cut flowers, cold concrete blocks from which stubborn and resilient clumps of anemones, or clumps of earth, primordial and maternal, emerge.
VETRINA presents a series of exhibitions curated by Mara Sartore for Vino Vero and in collaboration with Lightbox: on a quarterly basis, internationally renowned artists working on the theme of nature are invited to present their site-specific works in the window of the wine club adjacent to the bar.
Lilla Tabasso (Milan, 1973), biologist and designer, lives and works in Milan. After studying Biology at the University of Milan, she began working with Murano glass, discovering the ancient and noble art of lampworking. Her artistic experimentation focuses on her passion for nature, combined with great technical skill. The artist's work therefore focuses on floral themes. Her works are characterised by an incredible realism that draws from nature an infinite palette of colours, clear shades and also – fundamental for the artist – mutations and imperfections: dry branches, wilted flowers and withered leaves. These mainly refer to the concept of 'Vanitas', which has always been used in Art History to symbolise the transience of earthly life and the inexorable passing of time.