Event
#UMANOITECOM – Lidia Carbonetti
The new appointment of #UMANOITECOM animates Vino Vero Lisboa: the guest-innkeeper of the event will be the Italian Lidia Carbonetti from the wine estate Rocco di Carpeneto.
February 29, 2020 – Vino Vero Lisboa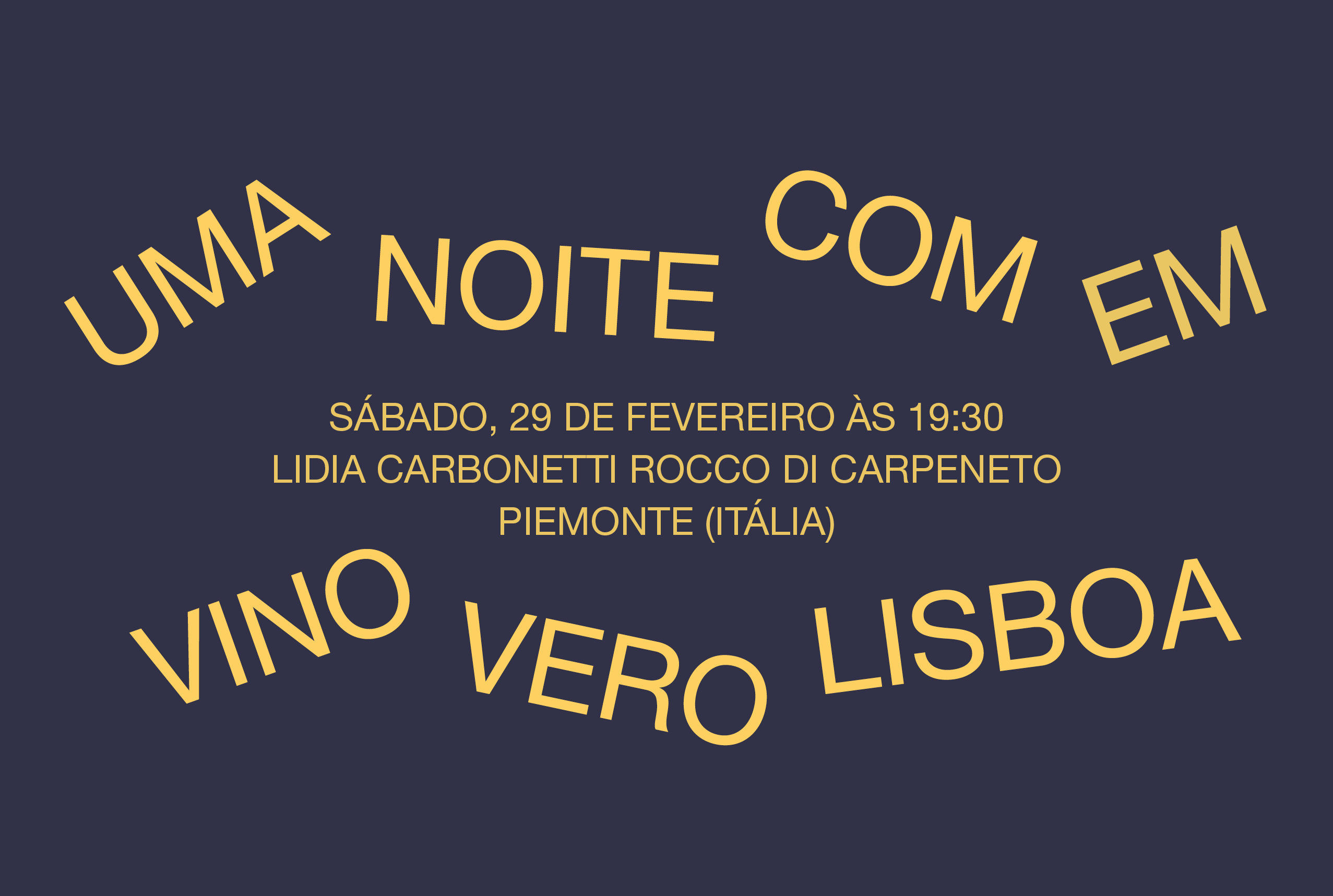 Located in the hilly Alto Monferrato in the Piedmont region, the estate was born from Lidia and Paolo's passion and determination: bored by her job in Milan, Lidia decided to radically change her life. Therefore, wine has become her second life: she got back to study enology and viticulture at university and, by the time that the first vintage of their estate was ready, she had completed her degree.
At Rocco di Carpeneto, only native vines are cultivated, following the principles of biodynamics, respecting the environment and its natural cycles. The estate's name itself is rooted in local history: "Rocch" was the ancient name of the Carpeneto d'Acqui region since 1458 and before. Even the wines' names bear the traces of local culture: they are all named after dialectal words, as the RAPP, "bunch" in dialect, a 24/30-month aged barbera, spontaneously fermented in stainless steel vats, the RATARAURA, literally "bat", a Barbera del Monferrato superiore DOCG, mostly processed inside clay pots, or the ANDEIRA, which refers "rhythm" or a "brisk walk".
These and more wines will be available for tasting during the next appointment of #UMANOITECOM.
Wines by the glass:
RAPP (100 % Barbera)
RATARAURA (100% Barbera del Monferrato superiore DOCG)
BETT
ANDEIRA 100% Barbera)
To reserve a table
ph. +351 21 886 3115
Where
Trasvessa do Monte 30,
São Vincente 1170-265, Lisboa
post
APRE IL WINE SHOP DI VINO VERO
Cari amici,
Siamo lieti di annunciare l'apertura del Wine Shop di Vino Vero.
Uno spazio che in questo periodo sarà riservato ai vostri acquisti di vino dopo le 16.00 fino alle 19.00 per poter comunque continuare a festeggiare.
In futuro questo sarà anche uno spazio speciale riservato a percorsi sensoriali fuori dall'ordinario. I tempi non ci permettono ancora di svelarvi le degustazioni che i nostri Osti stanno preparando per presentarvi la miglior vinificazione spontanea europea e oceanica, ma apriamo le porte del Wine Shop per donarvi il meglio della nostra cantina, adesso aperta a tutti.
Fino alle 19 ci trovate proprio nella bottega affianco al nostro bancone, per venire incontro al vostro desiderio e al vostro palato anche nei giorni di lockdown, tranne il giorno di Natale, offrendovi le migliori bottiglie da trasportare fino al vostro domicilio o per le strenne natalizie dell'ultima ora.
Nel Wine Shop troverete anche le nostre t-shirt e shopper e una cartolina omaggio per i vostri auguri.
Veniteci a trovare, vi aspettiamo.
December 18, 2020 – Vino Vero Venezia