Post March 02, 2022 – Vino Vero Venezia
Artist Matilde Sambo at Vino Vero
"Sottile Instabilità / Subtle Instability", 2022 Soya leather and acacia thorns 3 March – 29 May 2022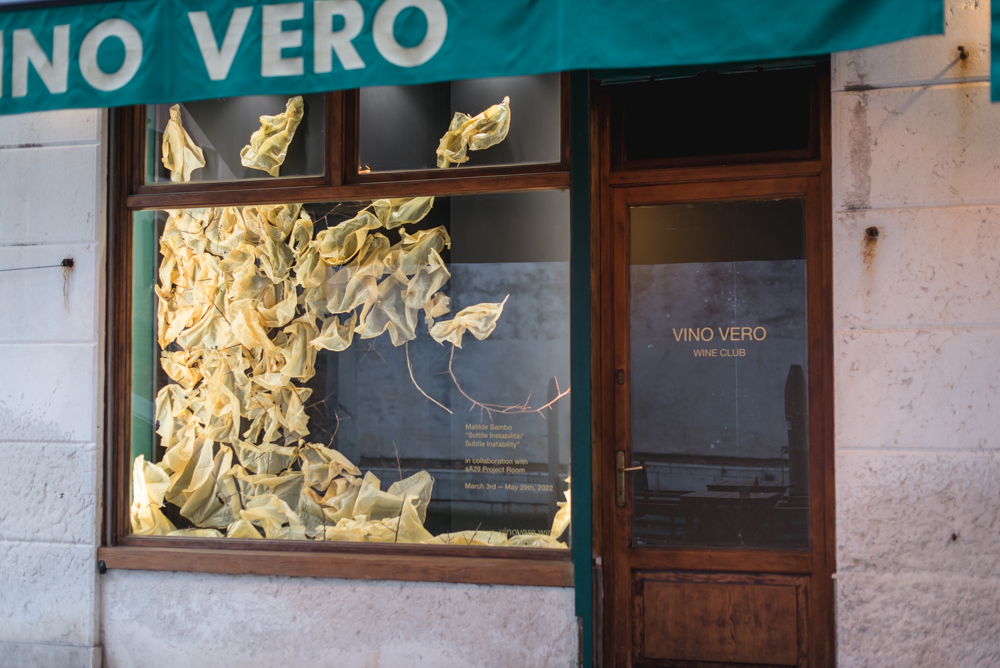 For its third showcase, Vino Vero presents a site-specific work by the Venetian artist Matilde Sambo, whose research explores the complicated relationship between the natural world and the human being, between instinct and rationality. An essential aspect of her artistic practice is the reflection of the concept of "the fragment", which is investigated on several levels: through sculpture, video and sound. Matilde Sambo's research generates apparently contradictory concepts that intersect on common points and then merge. The artist often uses extremely ductile and fragile organic materials to represent the importance of change and transformation as fundamental principles of the natural cycle; elements that she then puts into dialogue with materials that are mostly made of metal metal and linked to the sculptural tradition.
 
Disorientation and narratives of imaginary worlds are themes present in all her works, which are often presented as immersive environments in which all the senses are activated and stimulated. Matilde Sambo says of her work: "What most intrigues me about soy skin is its capacity for transforming: initially it appears moist and elastic so that it can be moulded, folded, laid down or inserted into recesses and crevices. As soon as it is exposed to the air, it morphs, dries out and changes colour. It becomes very fragile, shattering into small pieces just by being touched. Its subtle, organic consistency immediately evokes the skin, revealing its symbolic potential." She goes on to explain her ideas further: "everything is enchanting, if it were not for the thorns that slowly tear, taking on the appearance of ambivalent white weapons that pierce but protect. Symbolising inner turmoil and at the same time an intrinsic strength that pushes outwards." 
It is no coincidence that this new Showcase opens on 2 March 2022, which in the Christian calendar is Ash Wednesday. "Subtle Instability" by Matilde Sambo here represents a desire for transition, the thorns that pierce the soy skin refer to a religious imagery that here is transfigured and fragmented. An image of suffering and fragility: to gather and transform oneself, is to generate a new strength, a new possibility. 
Vetrina presents a series of "boxed exhibitions" curated by Mara Sartore for Vino Vero in collaboration with Lightbox. Every three months internationally renowned artists working on the theme of nature are invited to present their site-specific works in the wine club's window next to the bar. 
Matilde Sambo
 Graduated in Visual Arts at the IUAV University of Venice, Matilde Sambo (Venice, 1993) has participated in national and international art projects and residencies including: VIR, Via Farini in Residence (Milan), Open Studio Fonderia Artistica Battaglia (Milan), BoCs Art (Cosenza), Collective Signatures (Balearic Islands), Tagli (Stromboli), New Echo System, Pro Helvetia (Venice), Art Colony, Bronze Symposium (Hungary) Art Encounters "Six Steps forward one step back" Volvo Studio (Milan), Festival Angelica (Bologna), Pasinger Fabrik (Munich), Argo 16 (Venice), Radio Raheem (Milan). "Falsehood in good conscience" atA29 Project Room (Milan). 
post
Wine Delivery is Back
Ritorna la consegna a domicilio a Venezia e s'intensificano le spedizioni in tutta Italia
November 16, 2020 – Vino Vero Venezia