Post November 30, 2022
Artist Lupo Borgonovo at Vino Vero
Yelloween, 2022
7 December – 12 February 2023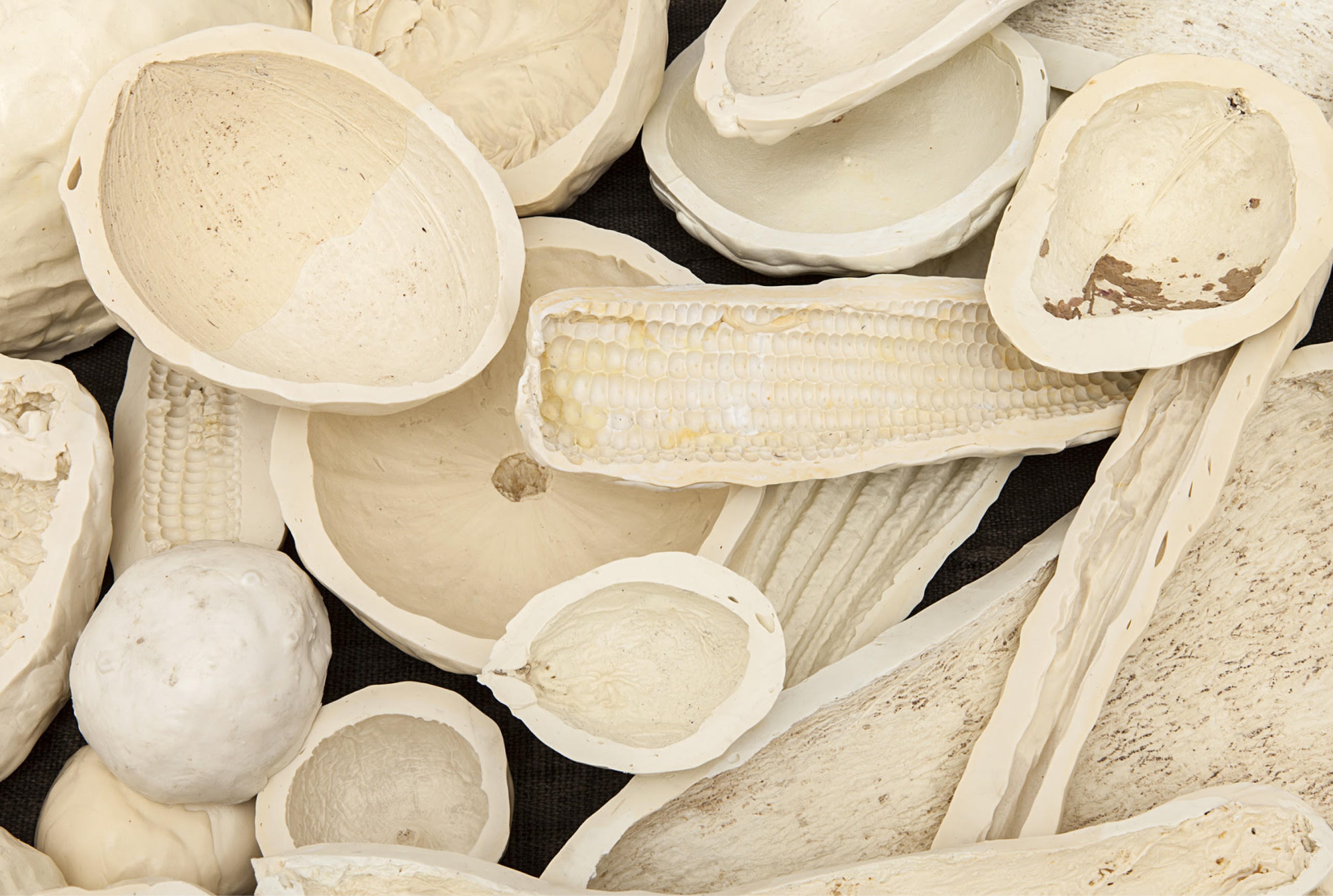 On the occasion of the sixth edition of Vetrina, Vino Vero presents a site-specific installation by Lupo Borgonovo, a Milanese artist whose work develops through the transformation of forms and materials in sculpture and drawing, a process nourished by iconographic research and archive material. Combining and associating natural forms, historical artefacts and everyday objects, the artist's practice mixes solids and liquids, existing and imaginary objects, refined and raw materials.
The work emerges from a dialogue between traditional workmanship and more recent production techniques; through a metaphorical approach it explores the relationship between organic and synthetic forms. The installation "Yelloween" consists of a series of fruit casts that render the variety of natural forms with a synthetic material. The title refers to the slight ivory tinge of the casts on display – "The title in my works is always chosen for the sound or shape of the letters. Invented words or existing words mixed together. In this way, the title is a sign or rhythm that adds to the visual part of the work"- explains the artist.
The fruit casts present the essential features of Borgonovo's sculptural practice, which he himself has defined as a "product by subtraction" and creation of "forms sculpted by time". In an interview published in Flash Art (Flash Art, Marco Tagliaferro interviewed Lupo Borgonovo, 7 February 2017), Lupo describes his thinking as follows: "Time is not just a membrane that surrounds things, but a material that can be used in the creation of a work. Moreover, if it is true that space and time are welded together, to draw space is to draw time, to occupy space is to occupy time. I work on an idea of circular, absolute time, where the past and the future exchange, reflecting each other."
The sculptures selected for Vetrina represent the object via subtraction, the presence of what was and is no more, the fruit is only present through its form. As Lupo Borgonovo says: "I am interested in the revelatory capacities of sculpture. I use it as an interpretative practice that creates images by reflecting reality. I have often produced by subtraction, trying to experience the incorporation of reality into language'. The fruit used to make these flexible moulds was chosen for its aesthetic and formal characteristics, thus creating a still life that retains the mark of something alive.
Vetrina presents a series of exhibitions curated by Mara Sartore for Vino Vero and in collaboration with Lightbox: on a quarterly basis, internationally renowned artists working on the theme of nature are invited to present their site-specific works in the window of the wine club adjacent to the bar.
Lupo Borgonovo (1985) lives and works in Milan. Recent solo exhibitions include: Aplomb, Museo del Novecento, Milan (2020); Zeester, Museo Civico di Castelbuono (2019); Alexandra, Galleria Monica De Cardenas, Milan (2018). The artist has also been part of several group exhibitions, such as: Una Boccata d'Arte, Civita (2021); occupy and echo (a stage), curated by Tom Polo, Reading Room, Melbourne (2019); The Relative Naive, curated by Sarah Andrea e Schönfeld and Ashkan Sephavand, Galerie Weisser Elefant, Berlin, Germany (2019); #80 | #90, curated by Pier Paolo Pancotto, Villa Medici, Rome, Italy (2019).
post
Simona and Alex Klinec: Art of Wine in the Heart of Medana
Not only a wine cellar, neither just a farmhouse… a point of reference for those traveling along the Slovenian Collio 
September 12, 2019 – Vino Vero Venezia